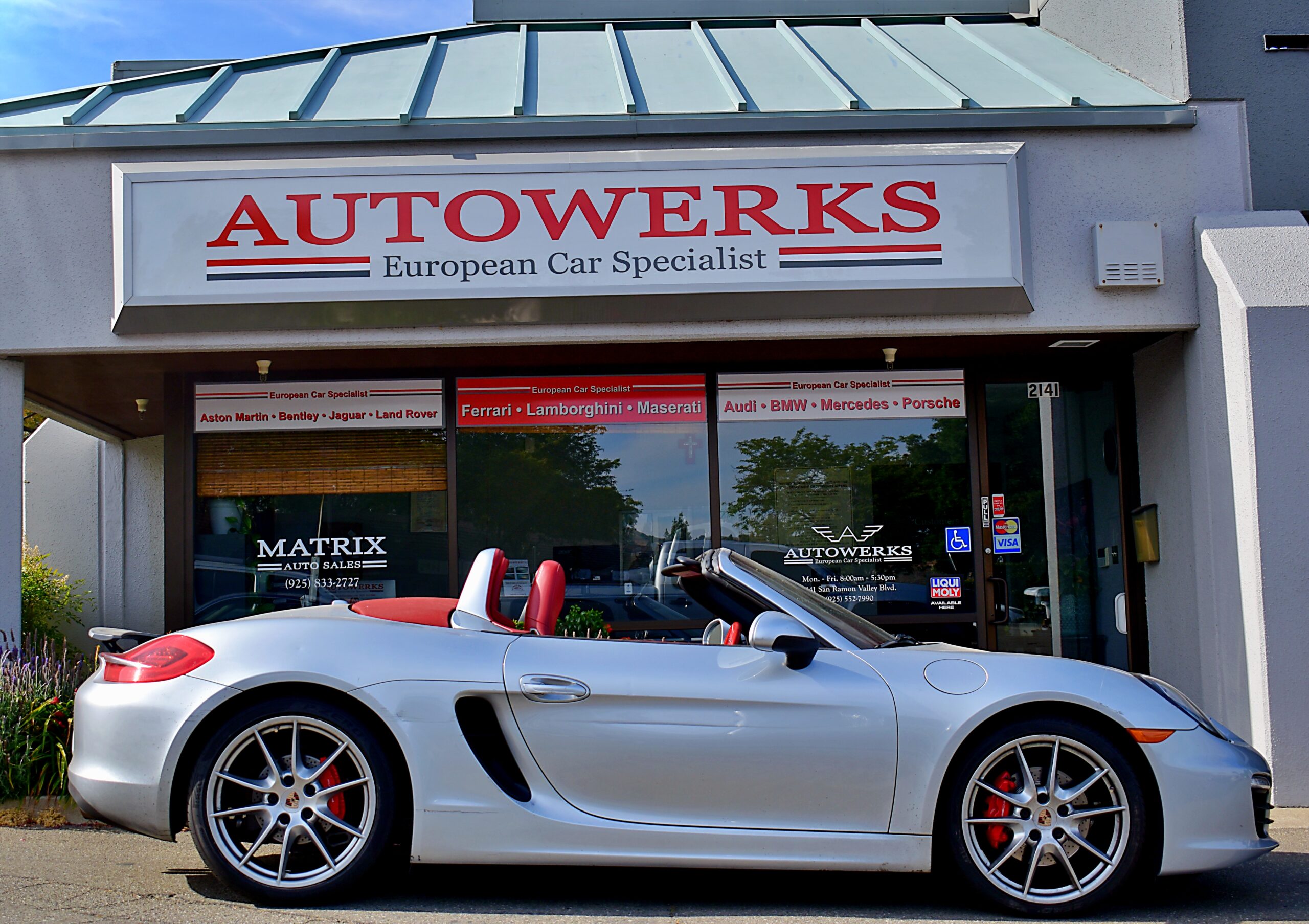 FROM basic oil chages to major engine overhauls
Recognizing the paramount significance of maintaining your vehicle's peak performance, Autowerks European stands as your solution. Our team comprises certified, exceptionally skilled technicians wholly devoted to delivering unparalleled services at our San Ramon, CA auto repair facility.
Armed with cutting-edge diagnostic tools and technology, our team ensures precise identification and swift resolution of any vehicle issues. Employing solely the finest replacement parts, fluids, and filters, we guarantee your vehicle's restoration to optimal functionality.
Autowerks European comprehends the pivotal nature of sustaining your vehicle's excellence. This is why our certified and accomplished technicians are wholly committed to furnishing superior services at our San Ramon, CA auto repair center.
Fortified with state-of-the-art diagnostic tools and technology, our team ensures pinpoint accuracy in identifying and effectively rectifying any vehicular concerns. Employing solely the highest caliber replacement parts, fluids, and filters, we ensure the return of your vehicle in its prime operational condition.
Finest Auto Repair Services At Remarkably Affordable Rates
Disclaimer: All logos are property of their respective brands and are not affiliated with Autowerks European.
At Autowerks European, we operate as a comprehensive auto repair and preventive maintenance establishment that specializes in the repair of imported vehicles.
Our adept professionals boast the expertise and experience to adeptly service and repair even the most intricate imported vehicles.
Employing the latest technological advancements to diagnose issues and present viable solutions, we stand behind our work with an assurance of excellence, ensuring your contentment with the results.
We conduct scheduled services for import vehicles and provide a comprehensive range of repair services, including:
European Cars, Detail & Dent Repair, Electronic Services, Electrical Services, General Services, Heating and Cooling Services, Engine & Transmission, Miscellaneous Services, Transmission Services, and Undercar Services
DETAIL & DENT REPAIR 
Our team is equipped with cutting-edge diagnostic tools and technology, guaranteeing precise identification and swift resolution of any vehicle concerns. We employ solely the highest quality replacement parts, fluids, and filters, ensuring your vehicle is restored to optimal working condition.
Neglecting your vehicle's electronic systems is unwise - entrust our experts to meticulously repair your vehicle on the initial attempt! A subpar driving experience can frequently stem from malfunctioning computers or driving controls. Rely on Autowerks European to ensure your vehicle maintains peak driving condition.
Our electronic services encompass:
Check Engine Light 
Witnessing your car's "Check Engine" light illuminate is a situation no one relishes. This light might signal a costly issue like a faulty catalytic converter or a minor concern such as a loose gas cap. At Autowerks European, we can decipher the code and ascertain the problem for you. Reach out to us at 925-552-7990 or drop by our shop for expert assistance.
Computer 
In today's automobiles, manufacturers incorporate at least one computer. The primary role of this computer is to monitor and fine-tune engine and transmission functions. This computer acquires input from various sensors, regulating spark plugs, idle speed, and fuel injectors to optimize your car's performance. A malfunctioning car computer can have a significant impact on its controlled functions. For peak performance from your car's computer, ensure it undergoes regular assessments for updates and efficient operation. If it's facing failure, opt for repair or replacement. To have your car's computer handled by experts, visit Autowerks European in San Ramon, CA 94583 today.
Computer Reflashing 
Autowerks European boasts advanced equipment for computer reflashing, available to customers in the San Ramon area. Computer reflashing, essentially involving software updates or reinstallation, is primarily conducted when a manufacturer issues an update. It's a straightforward process, and minor updates that your car may not yet have might be included. The manufacturer may have tweaked the transmission-shifting algorithm or adjusted other parameters that contribute marginal enhancements to drivability, mileage, or emissions. Given that auto manufacturers regularly release updates, there might be a reprogramming option for your vehicle. Visit Autowerks European or call us at 925-552-7990 to schedule an appointment!
Diagnostics 
The mechanics at Autowerks European possess the capacity to diagnose all the electronic components in your vehicle. For expert diagnostics services on your car's electronic components, visit Autowerks European today.
Drivability 
Drivability pertains to the smoothness and consistency of your car's acceleration. Contemporary cars are typically fitted with onboard computers that continuously monitor readings from various sensors. In the event of drivability issues, a warning message will manifest on your car's dashboard. To have your car examined for drivability problems, head to Autowerks European in San Ramon, CA 94583 today. Our experts at Autowerks European possess the requisite tools, training, and technology to diagnose and address your car's drivability concerns.
Engine Controls
Essentially, an engine control system functions as an onboard computer in your car. Similar to all computers, engine controls comprise hardware and software components. Automotive engine control systems regulate exhaust emissions and enhance fuel economy. To optimize your car's incredibly robust technology, ensure that the engine controls operate seamlessly. To ascertain the proper functioning of your car's engine controls, contact Autowerks European today.
Facing a dead battery? Experiencing issues with a misfiring starter or alternator? Look no further than Autowerks European in San Ramon, CA 94583 for all your auto electrical repair and maintenance needs. Our commitment lies in offering meticulous service to your vehicle, ensuring a level of craftsmanship that you can place your confidence in.
Our array of auto electrical repair and maintenance services encompasses:
Alternators
The alternator stands as a pivotal automotive component, converting mechanical energy into electric energy (alternating current). Integral to your car's engine, alternators hold a key role, and any malfunction could lead to your car's breakdown. When your vehicle's alternator encounters problems, it's prudent to seek professional assistance. At Autowerks European, we boast experts adept at addressing all your alternator requirements, expeditiously returning you to the road. Pay us a visit at Autowerks European today.
Batteries 
Functioning as the source of electric energy that powers your vehicle's ignition system, starter motor, and lights, the battery's health is crucial. Morning jump-starts might indicate battery deterioration. If a battery's condition is deteriorating, replacement or repair is dependent on the extent of damage. Should you encounter battery-related issues, reach out to Autowerks European in San Ramon, CA. We offer a convenient battery testing and replacement service, ensuring your swift return to the road. Our scope includes battery replacement, charging, installation, testing, and recycling – we've got all aspects covered.
Starters
A starter serves as a motor (electric, hydraulic, or pneumatic) that initiates the operation of the internal combustion engine by rotating it. Given the pivotal role starters play in your car's engine, their malfunction could lead to vehicle failure. In the event your car's starter encounters difficulties, seeking expert intervention is advisable. Autowerks European is home to professionals equipped to handle all your starter needs, swiftly restoring your mobility. Make your way to Autowerks European without delay.
Whether your vehicle has been stationary for a while or you manage a fleet in need of routine checks, Autowerks European, situated in the San Ramon, CA 94583 vicinity, is equipped to expedite your vehicle's return to the road. We collaborate with your insurance company to secure the finest repair job at a competitive rate.
To secure an appointment or learn more about our contributions to your vehicle's well-being, reach out to us at 925-552-7990.
Our adept auto repair services encompass:
European General Repair
European vehicles represent a pragmatic and stylish alternative to domestic cars. Naturally, they'll require general repairs at some juncture. Moreover, the maintenance and repair of these vehicles necessitate a level of knowledge and tools exclusive to a limited number of auto shops. If issues emerge with your European vehicle, connect with or visit Autowerks European today for professional European general repairs. We possess the proficiency essential to restore your vehicle to its former glory.
Off-Road Vehicle Repairs 
An off-road vehicle (alternatively known as an off-highway vehicle) is a mode of transportation adept at traversing both paved and unpaved roads. These vehicles demonstrate the capacity to adeptly navigate any road type. Characterized by their substantial tires, off-road vehicles necessitate servicing by a shop experienced in off-road repairs when problems arise. To access expert off-road vehicle repairs, engage with or visit Autowerks European today.
Heating and Cooling Services
AUTO A/C & HEATING SERVICES

 
Should the breeze through open windows fall short of satisfaction, make your way to our establishment in San Ramon, CA 94583 for an expert assessment of your auto A/C or heating predicaments. Our offerings entail budget-friendly rates coupled with guaranteed workmanship. Reach us at 925-552-7990, permitting us to facilitate your journey in absolute comfort.
THE SIGNIFICANCE OF MAINTAINING YOUR AC SYSTEM:
Over time, heating and A/C systems are susceptible to breakdowns. Hose pipes might clog and develop leaks if neglected, culminating in compromised efficiency of heating and cooling capacities. Regular upkeep is instrumental in sustaining peak performance of your AC system!
INDICATIONS OF POTENTIAL A/C SYSTEM ISSUES: 
When the air conditioning releases slightly cooler air compared to the external environment 

Air blowing into the cabin exudes a damp, musty, or mildew-like odor 

Your cabin remains chilly in cold weather or only slightly warmer than the external temperature The defroster takes an extended duration to activate, or fails to operate 

The heater or A/C functions solely while driving, ceasing operation when the vehicle is stationary 

Your heater yields cold air or the air conditioning emits warm air 

Even at the highest fan setting, airflow is minimal. 
A COMPREHENSIVE ASSESSMENT OF HEATING AND A/C SYSTEM ENTAILS:

 
Examination of internal controls and the blower 

Evaluation of radiator coolant operating temperature, hoses, pressure radiator cap, and thermostat Inspection of the compressor belt 

Examination of the system and seals for leaks or other impairments 

Conducting a cooling system pressure test Validation that A/C pressure aligns with manufacturer specifications 

Measurement of interior vent air temperature
For the more extensive tasks, entrust your vehicle to Autowerks European! Our adept services cater to both late model imports and newer domestic vehicles. With our workmanship guaranteed, you can be confident in receiving top-tier engine overhaul and replacement services in the San Ramon, CA 94583 vicinity.
Our robust services encompass:
Cylinder Block Serving 
as the powerhouse of your vehicle, the cylinder block houses cylinders along with their components (gaskets, valves, and seals) within a lubricated and cooled crankcase. This solidly cast car part is meticulously designed to be exceptionally strong, yet it may still encounter issues like cracks, core plug, or freeze plug failures, leading to a non-starting vehicle. If you're facing cylinder block problems, communicate with the experts at Autowerks European by dialing 925-552-7990.
Cylinder Head 
Positioned atop a cylinder within an engine block, the cylinder head seals the combustion chamber and orchestrates airflow. If your vehicle experiences insufficient compression due to a faulty cylinder head, it can lead to difficulties in driving. To address your cylinder head concerns, consult the specialists in cylinder head repair and reconditioning at Autowerks European.
Engine Maintenance 
Regular preventive maintenance is paramount to prolonging the lifespan of car parts, including engines. Regular upkeep enhances peak performance and fuel economy. For professional engine maintenance, rely on Autowerks European's adept technicians.
Engine Repair 
From diagnostic check engine light repair to meticulous engine part repairs, our skilled auto mechanics are well-equipped to address a wide array of vehicle issues. At Autowerks European, we're here to provide full-service engine repair in San Ramon, CA, ensuring your vehicle's optimal functioning.
Engine Repair and Rebuild
 Over time, a vehicle's engine may deteriorate, necessitating an engine replacement or rebuild. Our experienced mechanics can either rebuild the engine, replacing or resurfacing worn-out parts, or offer an engine replacement. Reach out to Autowerks European for expert guidance on your engine replacement needs.
Engine Replacement 
The engine propels your vehicle forward by converting energy into mechanical motion. While generally reliable, engines can experience damage and breakdowns. If your vehicle's engine encounters issues, don't hesitate to take it to a mechanic for a timely replacement. Visit Autowerks European at 2141 San Ramon Valley Blvd for quality engine replacement services.
Timing Belt 
The timing belt, a crucial component of your vehicle's internal combustion engine, synchronizes the camshaft and crankshaft rotations to ensure proper engine valve operation. Regular checks are essential, as a worn timing belt can cause engine complications. For expert timing belt assessment, contact Autowerks European.
Transmission Flush 
While manufacturers suggest a transmission flush every 30,000 miles or every two years, certain symptoms may indicate an earlier need. These symptoms include transmission grinding, shifting issues, slipping gears, and more. A transmission flush removes used fluid, enhancing performance. For all your transmission flush needs, rely on the transmission experts at Autowerks European.
Transmission Maintenance 
Preventive maintenance is vital for increasing the lifespan of auto parts, including transmissions. Regular upkeep optimizes performance and fuel economy. For expert transmission maintenance, consult Autowerks European's adept technicians.
Transmission Repair 
Our comprehensive transmission repair services cover both manual and automatic transmissions. Accurate diagnostics guide our meticulous repair processes, which may involve adjustments, seal replacements, or part replacements. For expert transmission repair, reach out to Autowerks European.
Autowerks European is dedicated to ensuring our San Ramon customers feel at ease and confident in their vehicles. While we handle the repairs and services, we encourage you to ask us any questions you may have about necessary services or their causes. Feel free to reach out at 925-552-7990, and our team will be glad to assist you. Here's important information about brake issues and corrective services provided by Autowerks European.
Anti-Lock Brake System
 Anti-lock Brake Systems (ABS) prevent wheel lock-up during braking, enhancing control and preventing skidding. If your ABS light illuminates, visit Autowerks European for accurate diagnosis and repair to address the issue effectively.
Brake Fluid Flushes
Brake fluid absorbs moisture over time, diminishing brake system efficacy and potentially leading to corrosion. Regular brake fluid flushes are crucial to ensure fresh fluid circulation. Consult Autowerks European technicians to determine the appropriate interval for a brake fluid flush.
Brake Hoses 
Brake hoses transport pressurized brake fluid from the master cylinder to the brakes. Damaged hoses can cause delayed or ineffective braking, while leaks can lead to system failure. Though not frequently replaced, promptly address any signs of cracking or wear in your brake hoses.
Brake Pad & Shoe Replacement

 
Squealing brakes often indicate brake pad issues. If your brake pads wear down completely, you'll hear a grinding metal-on-metal noise when braking, potentially damaging rotors or drums. While some with auto repair knowledge may attempt DIY fixes, it's advisable to consult an auto repair professional immediately for brake problems.
Caliper Replacement 
Brake calipers house brake pads and exert pressure on the rotor to facilitate braking. Caliper problems can result in uneven braking and cause your car to slide forward during braking. This issue could compromise control in adverse weather conditions. Contact Autowerks European promptly to address caliper concerns.
Resurface Rotors
 In a disc brake system, rotors connect to your vehicle's wheels and work alongside brake pads to halt motion. Over time, friction generates grooves and cracks on rotors. Resurfacing restores rotors to a "like-new" state, reducing noise and vibrations. Autowerks European will carefully inspect your rotors and recommend appropriate action.
At Autowerks European, our aim is to ensure your vehicle's brakes perform optimally and keep you safe on the road. Feel free to reach out to us for any brake-related inquiries or to schedule maintenance. Your safety is our priority.
Proper wheel alignment is essential for maintaining tire health and ensuring your vehicle travels in a straight line without pulling to one side. At Autowerks European, our certified tire specialists utilize state-of-the-art equipment to thoroughly inspect your vehicle's tires. We check for issues like uneven wear, cracking, and slow leaks. During your routine maintenance service, our technicians will rotate and align your car's tires to perfection.
Don't let uneven tire wear reduce the lifespan of your tires. Choose Autowerks European in San Ramon for fast and affordable tire alignment services. Schedule your appointment today by calling 925-552-7990.
ENGINE REPAIRS
If you're noticing unusual sounds coming from your engine while driving through San Ramon, it's time to take action. Avoid more costly engine repairs by opting for a comprehensive tune-up at Autowerks European. Our team of experts can address engine performance issues and provide the necessary maintenance to keep your engine running smoothly. Call us at 925-552-7990 to schedule a full tune-up today.
Trustworthy and Affordable Engine Repair

 
Modern engines are complex, combining mechanical and computerized components. Entrust your engine repairs to our skilled technicians who are not only honest and reliable but also highly trained in the latest diagnostic and repair techniques. Get an accurate engine repair estimate and explore affordable options at Autowerks European. For top-notch engine repair and maintenance services, contact us at 925-552-7990 or visit our location at 2141 San Ramon Valley Blvd, San Ramon, CA, 94583.
AC REPAIR 
Is your car's air conditioning system failing to keep you cool during hot weather? Don't suffer through the heat – bring your European car to Autowerks European in San Ramon, and we'll restore your AC's functionality. Call us at 925-552-7990 or visit our shop at 2141 San Ramon Valley Blvd, San Ramon, CA, 94583.
Five Signs Your Car AC Needs Service:
Your car's air conditioning only provides slightly cooler air than the outside temperature.

Air from your car's AC smells like mildew or mold.

The AC works only when you're driving.

Even at the highest fan setting, you experience low airflow.

You notice condensation or dripping water on your foot while driving.
Don't delay! If your car's A/C isn't functioning optimally, visit Autowerks European for maintenance. Addressing regular maintenance needs now can prevent more expensive AC repair costs later on. Sometimes, fixing a broken air conditioner is as simple and cost-effective as adding new coolant.
Most vehicle air conditioning systems will experience issues over time due to usage. Hoses that supply the AC unit may crack, clog, or leak if not properly serviced. Let Autowerks European service your European car to maintain peak cooling system performance. To learn more about getting your air conditioning back on track, call us at 925-552-7990.
For any other potential threats to your vehicle's road performance, our knowledgeable auto specialists offer an array of miscellaneous auto services. Our work is backed by a guarantee, ensuring the highest level of workmanship. If you need additional quality auto services, get in touch with us at 925-552-7990 to schedule an appointment.
Our assortment of miscellaneous auto services includes:
Fuel Efficiency 
Our experts at Autowerks European are equipped to inspect your vehicle and provide services to enhance its performance, fuel efficiency, and overall economy. These services may involve:

Changing engine oil using the recommended motor oil grade 

Checking and changing the air filter 

Inspecting and replacing a clogged fuel filter if necessary 

Adjusting tire pressure to manufacturer-recommended specifications 

Inspecting and cleaning the intake system 

Inspecting and replacing faulty oxygen sensors or emissions components 

Checking and adjusting brakes for proper alignment 

Inspecting and performing a steering alignment if needed for the power steering system 

Aligning the front suspension 

Replacing or cleaning dirty or malfunctioning fuel injectors 

Inspecting and replacing spark plugs and spark plug wires 

Examining the exhaust for a clogged catalytic converter 

Checking the exhaust gas recirculation system 
Hubs, Seals, Studs, & Nuts 
Wheel hub motors, incorporated into the wheel hub, directly drive it. To ensure a safer and smoother ride, replace warped and worn-out wheel hubs. Let Autowerks European replace your worn-out hubs for improved performance.
Effective seals prevent oil and grease leakage, enhancing performance across various environments and temperatures. Damaged or worn seals allow contaminants to enter bearing units or lubricant to escape, causing premature bearing failure. To retain lubricant and prevent contamination, replace old seals with new ones. For seal replacement, contact or visit Autowerks European today.
Studs serve as threaded fasteners for securing truck wheels. They are mounted on the wheel hub through the brake disk or drum, and wheel nuts (lug nuts) are secured over the studs to hold the wheel in place. Damaged studs can be dangerous. Replace damaged wheel studs promptly to ensure vehicle safety. For high-quality wheel stud replacement, call 925-552-7990 or visit Autowerks European today.
Wheel nuts or lug nuts secure a wheel to the hub. Securely fastened wheels are crucial for vehicle safety. Worn-out nuts compromise wheel security, putting the vehicle at risk of rolling. To ensure secure wheel fastening, contact or visit Autowerks European in San Ramon, CA 94583.
Most Extended Warranties Accepted

 
Extended warranties (service contracts) offer peace of mind to car buyers. These warranties kick in after the manufacturer warranty expires, covering major breakdowns and distributing repair costs. Not all auto repair shops accept extended warranties, but at Autowerks European in San Ramon, CA 94583, we accept most of them. Use your service contract to save on auto repair costs.
Performance Modifications 
Passionate about speed and performance? Performance modifications enhance speed and performance levels by replacing or upgrading vehicle parts. This involves changing or completely replacing some parts with high-performance alternatives to boost overall performance and speed. Autowerks European mechanics share your enthusiasm for performance and can expertly modify your vehicle to ensure optimal performance. For performance modification needs, contact us at 925-552-7990 or visit Autowerks European.
Pre-Purchase Inspections
 Considering a new car purchase? Ensure confidence in your decision by having a pre-purchase inspection performed on the vehicle. Pre-purchase inspections evaluate a car's condition to determine its worthiness. Autowerks European has pre-purchase inspection experts who meticulously examine vehicles, allowing you to make an informed choice. Pre-purchase inspections offer peace of mind when buying a used car.
Pre-Trip Inspection 
A pre-trip inspection is vital for a safe journey. This inspection identifies potential defects and mechanical problems that could lead to accidents. Before embarking on a trip, ensure your car undergoes a comprehensive inspection for safety. Autowerks European's pre-trip inspection experts are dedicated to ensuring your safety. Drop by or call us at 925-552-7990 to schedule your pre-trip inspection.
Trailer Hitches, Wiring and Tires

 
Trailers require maintenance despite lacking their own engines. Trailers need wiring for brake and other lights at the back. Our qualified and experienced electricians handle trailer maintenance. Schedule an appointment by calling 925-552-7990 to ensure proper trailer maintenance.
Wheel Bearings 
Wheel bearings are integral to wheel functioning, allowing free wheel rotation and connecting to the brake system. Over time, they can wear out, causing suspension vibration and noise. If they fail, the vehicle becomes difficult to control and unsafe. Wheel bearings should be periodically checked for leaks and wear. Autowerks European can examine your bearings and determine if they need replacement, ensuring your vehicle's optimal performance and safety.
Facing the daunting prospect of "transmission repair" can evoke anxiety, but there's hope to be found. Whether your vehicle's transmission is manual or automatic, heavy-duty or low-range, it holds a crucial role in your drivetrain. Serving as the link between engine power and forward motion, the transmission's importance is evident, and issues with this component can bring your vehicle to a standstill. At Autowerks European, our seasoned experts boast years of experience working on various types and sizes of transmissions. When your vehicle's progress stalls, rest assured that we possess the expertise to set you in motion once again.
Mitigating the likelihood of a major transmission repair expense involves adhering to the vehicle manufacturer's guidelines for fluid flushes. With intricate moving parts that can deteriorate rapidly without proper lubrication, your transmission requires periodic fluid renewal. Autowerks European's technicians can analyze a transmission fluid sample to estimate when fluid renewal will be necessary. When the time comes, our swift service will have you back on the road in no time.
In some cases, our technicians may only assess the problem after it has occurred. While this situation is more serious than a routine fluid change, it need not result in catastrophe. At Autowerks European, our skilled technicians can methodically disassemble your transmission, identify faults, and determine if repairs are feasible. Leveraging an expansive network of parts suppliers, manufacturer knowledge, and expert repair skills, we strive to restore your transmission and return your vehicle to San Ramon, CA's roadways.
Fundamentally, your car's clutch facilitates the disengagement and engagement of the engine and gearbox during gear changes. This prevents gear-related issues by relieving pressure on the gears during shifts. As gears are selected smoothly, the clutch reconnects the engine and gearbox, enabling forward motion. Over time, especially in improperly operated manual transmission vehicles, the clutch can deteriorate and become less effective. A worn-out clutch might cause the engine and gearbox to re-engage mid-gear change, potentially harming your transmission. Autowerks European assesses clutch health through diagnostic tests and test drives. Just as a transmission fluid flush rejuvenates your vehicle, our services aim to put your car back on the road and put your worries to rest.
Another facet of our gear expertise involves your car's differentials. These components sit within your car's axles, positioned between the wheels, and are vital for a smooth ride. During turns, the outside wheel covers more distance than the inside wheel. Malfunctioning differentials would cause both wheels to turn at the same rate, resulting in unpleasant vibrations and difficulty turning corners. Our transmission experience makes Autowerks European the premier destination for diagnosing, addressing, and resolving differential issues in San Ramon, CA.
Avoid transmission turmoil by visiting us for thorough transmission, clutch, and differential assessments. Call 925-552-7990 or drop by our San Ramon, CA location to schedule an appointment, ensuring your vehicle is operating in optimal condition!
Autowerks European adopts a bottom-up approach to tending to your European car, ensuring a solid foundation before addressing internal components. Our comprehensive undercar inspections and services focus on a critical but often neglected area of your vehicle, providing the essential care and attention your vehicle's foundation deserves.
Prevent potential issues by having your undercarriage examined today. Reach out to us at 925-552-7990 or visit our San Ramon, CA location to schedule an appointment, ensuring your vehicle's optimal condition!
Our competitively priced undercar services encompass:
Alignment 
Alignment, a standard aspect of car maintenance, involves aligning the wheels to adhere to the manufacturer's specifications. This practice enables the suspension and steering systems to operate at desired angles, mitigating tire wear. Autowerks European features alignment experts to ensure precise adjustment, promoting a balanced drive. Visit us for expert alignment services.
Anti-Lock Brakes 
Anti-lock brakes prevent wheel lock-up during rapid deceleration by modulating brake pressure, maintaining traction with the road while braking. Malfunctioning anti-lock brakes can escalate the risk of multi-vehicle crashes and run-off road accidents. To ensure your safety, entrust your faulty anti-lock brake system to Autowerks European. Our specialists will diagnose and repair your ABS, prioritizing your security.
Brake System Flush
Brake fluid, a moisture-absorbent substance, impacts brake performance. Moisture absorption lowers fluid boiling points and corrodes lines and cylinders, potentially leading to brake failure. To counter this, auto manufacturers recommend periodic brake flushes. This process entails replacing contaminated fluid with fresh fluid to minimize the effects of absorbed moisture. Autowerks European's swift lube services include expert brake system flushes. Contact us at 925-552-7990 or visit our facility.
Brakes 
Brakes are pivotal for slowing or stopping a vehicle via friction. These components halt your car's motion at will, making them indispensable. If your vehicle's brakes encounter issues, it's essential to address them promptly. Autowerks European's brake experts can service your brakes to ensure a safe driving experience.
Chassis 
The chassis is your car's internal framework, supporting the body, wheels, engine, transmission, driveshaft, differential, and suspension. A compromised chassis affects your vehicle's overall strength and performance. To maintain a robust and efficiently functioning vehicle, undergo chassis inspections by Autowerks European's experienced undercar service providers.
Custom Exhaust 
A motor vehicle exhaust system guides exhaust gasses away from the engine. While its primary role is to expel gasses, modifications can enhance engine power, reduce pollution, and minimize noise. Autowerks European specializes in custom performance exhaust systems, stainless steel mufflers, exhaust kits, and more. We can craft a custom stainless steel exhaust system tailored to your specifications.
Differential Flush 
Differentials compensate for varying travel distances between inner and outer wheels during turns. A differential's role is often overshadowed by the engine, yet its failure can lead to overall vehicle malfunction. Routine differential fluid changes, every 30,000 to 50,000 miles, safeguard your differential's longevity. Autowerks European provides comprehensive differential flush services for optimal performance. Visit us in San Ramon, CA or call 925-552-7990.
Differentials
Differentials transfer engine power to the wheels, ensuring varying speeds during turns. These components are vital for your vehicle's maneuverability. Regular checks and maintenance of differentials are imperative. Autowerks European offers differential examination and servicing for peace of mind.
Driveline 
The driveline connects the engine and transmission to the wheel axles, transmitting energy for movement. A malfunctioning driveline impedes power transmission and halts your vehicle. Regular inspections and servicing of your driveline are vital. At Autowerks European, our experts are equipped to service your driveline.
Exhaust 
An exhaust system guides exhaust fumes away from the engine. A functioning exhaust system benefits your vehicle's performance, sound, and environmental impact. Autowerks European's skilled technicians can service your car's exhaust system, ensuring optimal functionality.
Shocks Shocks smooth out rough roads by converting kinetic energy into another form. Well-functioning shocks enhance ride quality and vehicle handling. When shocks malfunction, driving on uneven surfaces becomes uncomfortable. Autowerks European's technicians can diagnose and repair your vehicle's shocks, promoting a smoother ride.
Struts 
Similar to shocks, struts dampen road surface impact for a comfortable ride. Struts also provide structural support to your car's suspension. Regular maintenance is essential, as struts' damping characteristics degrade over time. Autowerks European's experts diagnose and repair struts, guiding you toward informed repair decisions. If you have questions about your car's struts, call 925-552-7990 for guidance.
Your car's engine is undoubtedly one of the most crucial components, powering your vehicle's movement. To ensure optimal performance and avoid potential problems, routine maintenance is essential. At Autowerks European, we offer comprehensive engine maintenance services to keep your engine running smoothly and efficiently. Here's a closer look at the engine services we provide:
Oil Changes 
Regular oil changes are vital for maintaining your engine's health. During an oil change, we assess the oil's condition, which provides insight into your engine's overall well-being. Our experts at Autowerks European examine the oil for uniform viscosity and the absence of solid particles. Solid particles can indicate internal issues that require attention. We also replace the oil with high-quality products to ensure optimal lubrication and performance.
Engine Coolant 
Maintaining the right temperature in your engine is crucial for its proper functioning. The engine coolant plays a significant role in preventing overheating. Overheating can lead to serious engine problems, including radiator failure. Our engine coolant services ensure that your engine remains at the ideal temperature to prevent any damage.
Filters Clean and efficient combustion requires pure ingredients. Engine filters, such as air, oil, and fuel filters, prevent contaminants from affecting your engine's performance. Autowerks European's expert technicians regularly inspect and replace these filters to ensure your engine operates at peak efficiency.
Fuel Injector Cleaning 
Fuel injectors play a vital role in delivering the right amount of fuel for combustion. Over time, fuel injectors can become clogged with contaminants. Our specially developed injector cleaning solutions effectively clear the injector tubing, optimizing fuel delivery and engine power.
Accessory Belts 
Engine accessories like the alternator and air conditioning compressor rely on belts to transfer power. Worn or damaged belts can lead to serious problems, such as engine stalling. Autowerks European monitors the condition of your accessory belts and ensures proper alignment of pulleys for optimal belt performance.
Check Engine Light 
The "Check Engine" light is often a cause for concern. Our skilled technicians at Autowerks European can diagnose the issue behind the light's activation using diagnostic codes. Whether it's a minor issue or a more significant problem, we provide accurate diagnostics and solutions to keep your engine running smoothly.
Diesel Engine Maintenance 
Diesel engines require regular maintenance to ensure longevity and performance. Tasks such as changing oil and filters, bleeding the fuel system, and refilling the urea injection system are essential for diesel engine health. Autowerks European specializes in diesel engine maintenance to help your engine last.
Fuel Injection System 
Fuel injection is a crucial aspect of modern engines. Our experts ensure your fuel injection system is well-maintained for optimal performance and fuel efficiency.
Ignition System 
A properly functioning ignition system is essential for smooth engine starts and high performance. Autowerks European offers maintenance and replacement services for ignition components.
Spark Plugs 
Spark plugs play a crucial role in the combustion process. We check and replace spark plugs as needed to maintain optimal engine performance.
Oil, Lube, and Filter Changes
 Regular oil, lube, and filter changes are necessary to keep your engine running smoothly. Autowerks European offers these routine maintenance services to ensure your engine's longevity.
At Autowerks European, our goal is to provide top-notch engine maintenance services to keep your vehicle running reliably. Whether you need simple oil service or more extensive engine care, contact us at 925-552-7990 to learn how we can assist you in keeping your vehicle in excellent condition.
For questions about your import vehicle, contact us at 925-552-7990 or send us an email. Our experts will help determine what needs to be done.
Diagnostic Expertise
Trust our skilled technicians to diagnose and resolve complex automotive issues with precision and efficiency.
Bodywork and Paint Services
Restore your vehicle's beauty and integrity with our top-notch bodywork and paint solutions.
Transmission Services
Smooth gear shifts and improved longevity for your vehicle's transmission through our expert care.
Comprehensive Maintenance Services
Keep your vehicle in top condition with our wide range of maintenance services, ensuring smooth and safe driving.
Tire and Wheel Services
Drive confidently with our tire and wheel services, including alignments, rotations, and replacements.
GET A APPOINTMENT
Please let us know what is wrong with your vehicle.